This poster was used to advertise the Sensational Soulmasters at the Pavilion Dance Hall at Myrtle Beach SC during August of 1967.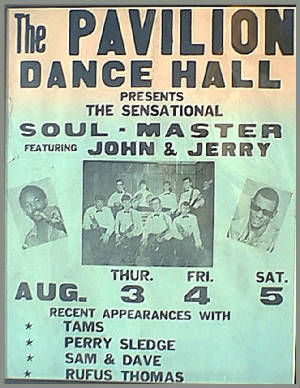 In 1965 AM radio stations across the nation were playing contemporary top 40 music. This music was mainly: Beach Boys, Beatles, Rolling Stones, Temptations, Four Tops, Supreams, etc. There was a heavy British Influence of music in this country and also a new sound called Motown. Black radio stations on the other hand, were playing "Soul Music" such as Sam and Dave, Dyke and the Blazers (Funky Broadway), Eddie Floyd (Knock On Wood), James Brown, JJ Jackson, Rufus Thomas, and The Barkays, just to mention a few. The Soulmasters Band played music mainly from Black radio stations such as WILA in Danville, VA and WLAC in Nashville Tenn.

This "Soul Music" was new to white people in the Danville VA area. Few had ever heard these songs.

Wayne Womble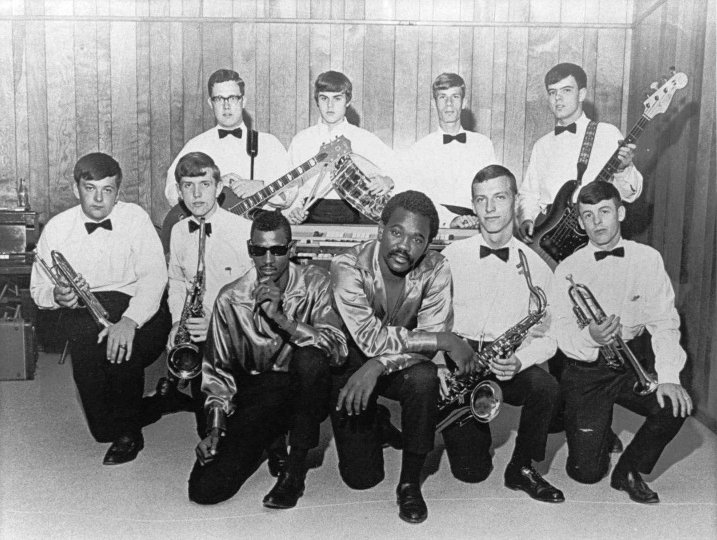 SOULMASTERS WBTM 1967
The Sensational Soulmasters. Picture taken summer of 1965 at WBTM studio on Grove Street. Pictured left to right back row: Steve Scearce,Larry Davis, Wayne Womble, Ernie Dickens. Front row left to right: Jimmy Matthews, Doug Hyler, Junie Walton, and Dennis Shephard. Left of Picture: Jerry Wilson. Right of Picture: John Irby.
Photos donated by Tom Mathewson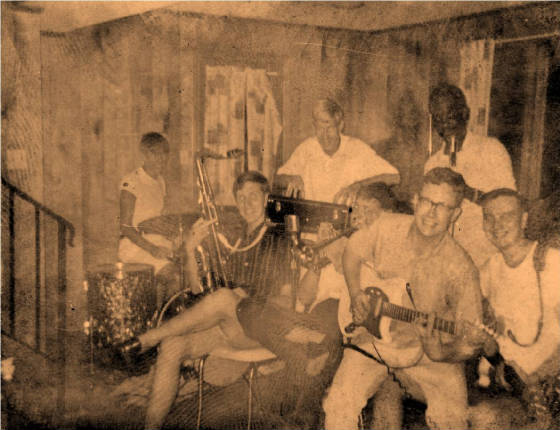 The Soulmasters First Practice 1965
The Soulmasters first practice 1965. This very grainy poloroid picture was taken in 1965 in Doug Hyler's parent's basement. Pictured left to right Back Row: Ricky Fox, Wayne Womble, Jerry Wilson. Pictured left to right Front Row: Doug Hyler, Jimmy Matthews,Steve Scearce, and Brian Thompson.
THE SOULMASTERS BIOGRAPHY

Documented by : Wayne Womble & Doug Hyler June 14, 2001

The Soulmasters began in 1965 as a nine piece R&B Band based in Eden NC. Doug Hyler and Wayne Womble, the originators, met John Irby & Jerry Wilson while jamming with an R&B band in Danville called The New Breed. We introduced John & Jerry to the Eden Band and the rest became history. The Soulmasters with the help of Tommy Mathewson (The Majors) later merged with four other local bands from the Danville area (The Kondors, The Majors, The Continentals, and Jene & The Teenbeats) to form The Sensational Soulmasters .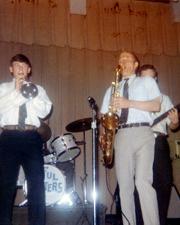 Picture taken at Chatham Hall in Chatham Va. 1966. Left to Right: Dennis Shephard, Tommy Mathewson, and Steve Scearce.
"I remember the first time the Sensational Soulmasters first played in public. It was at The Hotel Danville Ball Room for a BFB Subdeb (GW Highschool) party. We had just finished playing New Breed Bugaloo and I was getting ready to bring out (Introduce) John & Jerry. I looked around and there was Jerry but no sign of John. John was in the bathroom hiding. We took a short break and I went in to talk to John. I said John ,what the hell are you doing? You need to be on stage! John replied that he was scared to sing in front of White people. (Before this, The Soulmasters had only played to Black Audiences.) I said look John, there is a crowd of people out there that are just dying to see John & Jerry. I can promise you, that if you and Jerry go on stage, right now, that it will be the one of the most memorable events in your lifetime. I will also promise you this, you and Jerry will become Stars."

Wayne Womble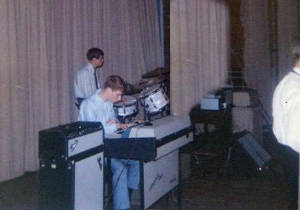 Chatham Hall 1966. Wayne Womble and Larry Davis.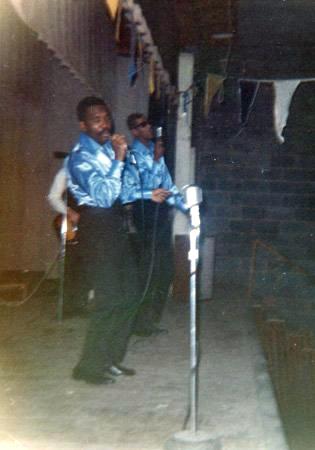 Baldwins Gymtorium in Martinsville, VA. 1966. Jerry Wilson and John Irby.
John got up, and we went back out, the crowd absolutely went wild when John & Jerry came onstage. Our town of Danville VA had never seen a Black & White Soul group perform on stage. Also the music we played Soul Music had never been heard except on Black Radio Stations such as WILA. The Sensational Soulmasters featuring John & Jerry were born.

The Sensational Soulmasters grew into a 12 piece Rhythm & Blues Soul band that at one time featured a 5 piece brass section. The band became known for its R&B style and its Funky Brass Section. The Soulmasters were known across Virginia, North and South Carolina region as one of the finest R&B bands ever to hit the area. Every R&B, Beach artist of that time, too many to mention, were backed up, if they were appearing anywhere within the region, by the Soulmasters Band.

In 1967 The Soulmasters cut their one and only record I'll Be Waiting Here and You Took Away The Sunshine. The A side: I'll Be Waiting Here was written by Dennis Shepherd and featured lead vocalist, John Irby in a solo performance. The B side You Took Away The Sunshine was written by Doug Hyler and featured both John & Jerry. The recording was financed by Bill Dudley, a radio Dee Jay at WYPR in Danville VA. The recording techniques of that time, especially in a local recording studio: House Of
Sound in Danville, Va. never did justice to this soulful band. This record however, did become a two-sided regional R&B hit that was played on radio stations as far away as WLAC in Nashville Tenn.

In August 1968 Wayne Womble left to Soulmasters to attend Elon College in North Carolina. The Soulmasters went on to perform over the next several years playing Colleges, Clubs, and Concerts.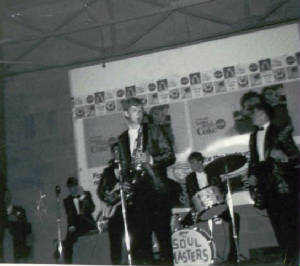 Soulmaster Coke Plant Danville, VA 1967
In 1968 Ernie Dickens and Jerry Wilson flew to New York City to negotiate a performance at the prestigious "Apollo Theater" for The Soulmasters. The owner listened to tapes and looked at pictures of the group. He liked the idea of having an integrated band perform at the Apollo. The deal was clinched with a handshake and a booking was set for early spring. The band was very excited about the pending performance with hopes of securing a record contract from a major recording studio. This gig never happened. In April of 1968 Martin Luther King was assassinated. Because of the racial tension and demonstrations in New York City and elsewhere, several members of the band elected not to go.

There will always be a question "What If?" the band had performed and had gone on to secure a major recording contract. That question will never be answered. It will only be contemplated by remaining band members for the rest of their lives.

Jerry Wilson
From the Collection of Wayne Womble
"From 1968 to 1970, there were numerous musicians that seem to float in and out of the Soulmasters . There was: George Parrish (Crazy George), Marvin Farr (Sax), Ricky Fox (Guitar, Drums and Baritone Sax), Eddie Irving (Sax), Lonnie Woodall (Guitar), and Charles Hairston (Vocals). By 1969 only two of the original Soulmasters remained: John & I."

Doug Hyler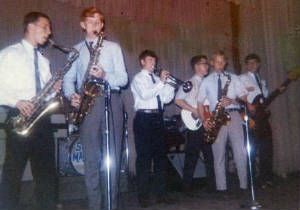 Chatham Hall 1966. Left to Right: Junnie Walton, Doug Hyler,Dennis Shephard, Tommy Mathewson, Steve Scearce, and Ernie Dickens.

Steve Scearce 1967
Doug Hyler left the group in the summer of 1969, after that, The Soulmasters turned to a different style of music, and changed their name.

During the last phase of the band, there were so many personnel changes, that the band in the final year changed its name to Mell Of A Hess. (Hell Of A Mess) and finally disbanded in 1970.


"I remember watching that blue bus drive away from Nags Head, with all the guys on board; waving, laughing, partying; and never realized that an era had come to an end.
Now here we are in 2001 writing memoirs. The innocence, the time, the confusion, the world as it was then, it all seems like a dream.

Doug Hyler



Doug Hyler & Wayne Womble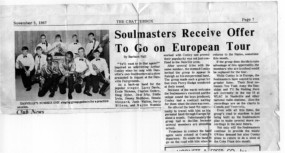 This article appeared in George Washington High School's newspaber "The Chatterbox" November 7, 1967.
November 3, 1967 THE CHATTERBOX Page 7

Soulmasters Receive Offer To Go on European Tour

By: Barbara Hall


Yall want to do that again? inquired an unbelieving Arthur Conley when he sang with Danvilles own soulmasters at a show presented in August at the Danville fairgrounds.
As a back-up band for the popular singer, Larry Davis, Ernie Dickens, Charles Gentry, Doug Hyler, John Irby, Eddie Irvin, Jimmy Matthews, Dennis Shepard, Junie Walton, Jerry Wilson, and Wayne Womble worked with Conley and proved their popularity was not just confined to the Danville, area.
After several tries with the same number, the stunned Conley invited the group to appear in Raleigh as his own personal band. The group made such a great hit that even Percy Sledge wondered about their sound.
Because of the warm welcome the Soulmasters received and the unique sound the boys produced, Conley had a contract waiting for them when the show was over.
He offered the band the opportunity to travel with him as his personal band through Europe for about a month. Unfortunately the group had to decline because several of the members are attending school.
Promises to contact the band again were echoed at Conleys departure. He wants the band to go on the road with him when he returns to the States, sometimes this month.
If the group does decide to take advantage of this opportunity, the members who are in school would be replaced for the tour.
While Conley is in Europe, the Soulmasters have soared to even greater fame. Their first release You Took Away The Sunshine and Ill Be Waiting Here are currently in the top 10 at WLAC in Nashville and other national radio stations. Also the recordings are on the charts in Canada and Venezuela.
Even with all this fame, the groups road to stardom is just being built as the Soulmasters continue to provide the music Gwites demand but also Conley plans to return to do a show at the Coke Plant this month.


Click for more Soulmaster Pictures
Heeey Baby Days of Beach Music Bands
To learn more about Danville Bands during the 1960's and 70's, click on this link.